Sustainability


Products and Services
Delivering Excitement to the World
We value intellectual properties and provide original products and services that leverage our strengths.
Invitation to Knowledge, Gateway to Learning
October 2021 marks the 40th anniversary of "Kawanakajima no Kassen," the first game created by President & CEO Yoichi Erikawa under the alias of Kou Shibusawa. During the past few decades, we have expanded into a variety of genres, including historical simulation games such as "Nobunaga's Ambition" and "Romance of the Three Kingdoms," action games such as "Dynasty Warriors" and "Nioh," role-playing games such as "Atelier Ryza," games for women such as "La Corda d'Oro," and more. In the 2022 NHK drama, "Kamakura-dono no 13-nin (The 13 Lords of the Shogun)," Kou Shibusawa is participating as a supervisor of 3DCG maps, using the expertise accumulated through game development. We will continue to contribute to society by creating entertainment content based on Asian history and culture.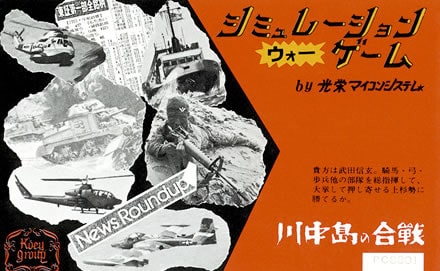 Promotion of Partnerships and Collaborations
To strengthen our global partnerships, we will continue to advance our plans for widespread collaborations for movies, TV dramas, plays, and events. For movies, we collaborated our four titles of the "Nobunaga's Ambition" series with the movie "Legend & Butterfly".
Tie-ins for regional contributions and area revitalization projects
We are actively engaged in regional contribution and area revitalization projects by using our IP in collaborations with local governments, schools, public transportation systems, and companies and products that represent different regions.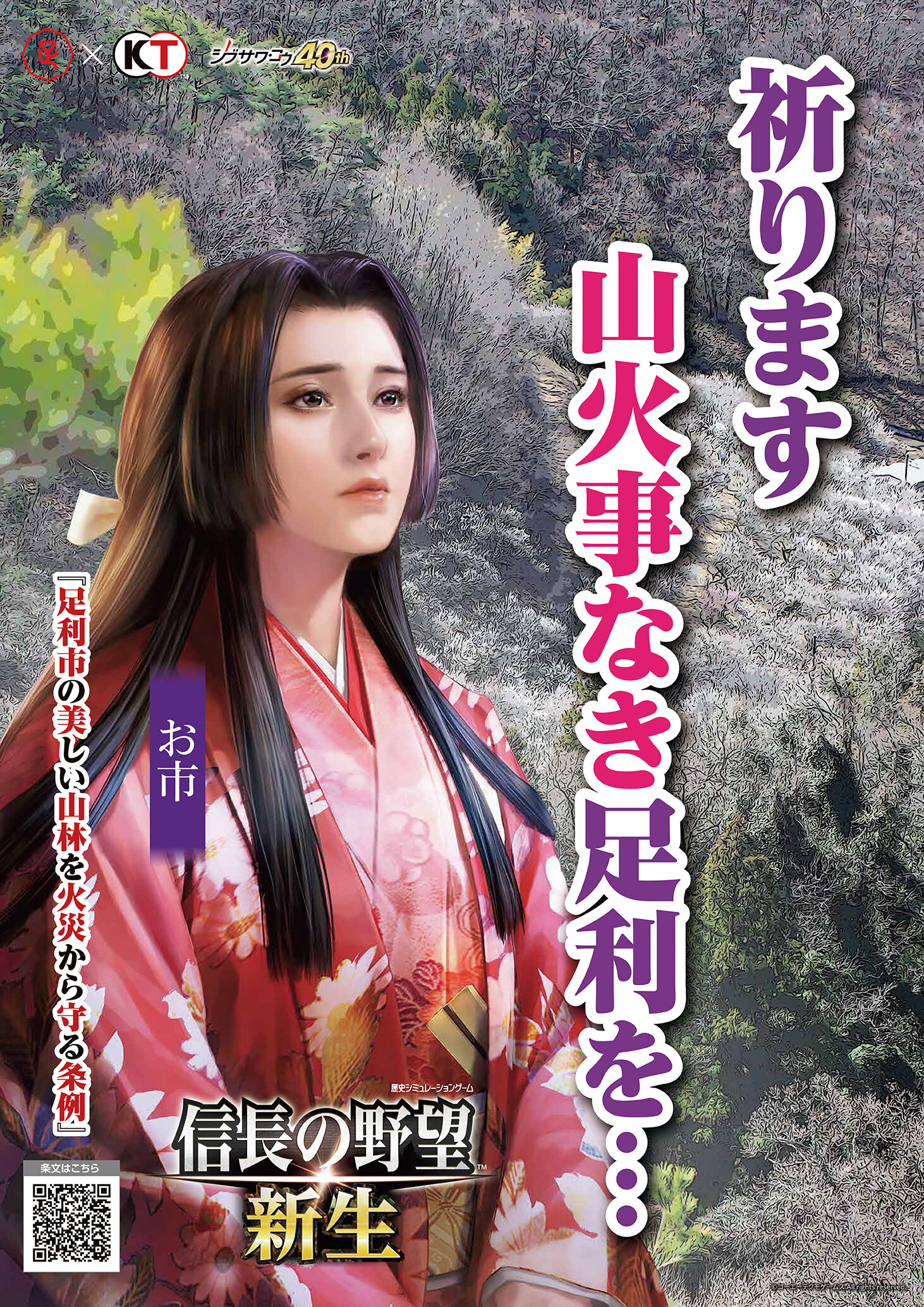 Other collaborations (FY2022)
"La Corda d'Oro Starlight Orchestra"

・Collaboration campaign with Keikyu Corporation to commemorate the launch of the "Digital Hayama Women's Travel Ticket".
"Touken Ranbu Warriors"

・ One-month collaboration with Taiwanese tea house "Eighty-Eightea Rinbansyo". Possible to win goods of limited edition.
"Nobunaga's Ambition: Shinsei"

・Collaborated with Senganen in Kagoshima City, Kagoshima Prefecture to open a special exhibition titled "The World of 'Nobunaga's Ambition: Shinsei' and Sengoku Shimadzu".

・Collaboration signboard appealing for wildfire prevention installed in Omata-cho, Ashikaga City, Tochigi Prefecture.

・Collaboration with Kanagawa Prefecture Center for the Elimination of Violence and Promotion and Kanagawa Prefectural Police Department to present awareness-raising posters featuring illustrations of warrior officers on the theme of elimination of violence in Kanagawa Prefecture.
"Nobunaga's Ambition" series

・ Implemented digital stamp rally titled "Odawara e-Sports Photo Stamp Rally" at targeted spots within the city.
"Atelier Ryza 3: Alchemist of the End & the Secret Key"

・ Collaborated with Taiwan charity organization "Syin-Lu Social Welfare Foundation" to sell limited edition cookie sets, all proceeds donated.
FY2022 Accomplishments
Tie-ins for regional contributions and area revitalization projects

Cooperated with regional public awareness campaigns (fire prevention, anti-violence, traffic safety).
Promoted tie-ins based on the needs of each area.
Promotion of Partnerships and Collaborations

Formed partnerships in various fields such as movies, TV dramas, theater, events, etc.(27 cases)
Main collaborations
・ Music for "Nobunaga's Ambition: Shinsei" provided by Kiyoshi Hikawa.
・ Music for "Atelier Ryza 3: Alchemist of the End & the Secret Key" provided by reche.
・ "Nobunaga's Ambition" series tie-up with the movie "Legend & Butterfly".
・ "Atelier Ryza" became an anime titled "Atelier Ryza: Ever Darkness & the Secret Hideout".
Pursuing specialized skills (CG production)

From photorealistic to toon shading, we support all types of CG tastes and pursue a variety of visual expression.
Created a team/unit-based structure to share knowledge and formulate long-term plans for each specialized function. Work efficiency and knowledge shared within the workflow.
We utilize the latest software tools, generic textures, and 3D models,
Making use of our proprietary game engine, the Katana Engine™

We have developed a number of original systems that simplify data production and achieve significant operational efficiency.
Cultural diversity through cooperation with external creators

We have established a framework for achieving AAA quality in game development by employing renowned visual directors, action directors, sculptors, concept designers, lighting directors, and others.
Strengthening risk management for our intellectuals properties

Maintained company rights through acquiring patents and copyrights.
Number of new patent applications: 24 cases
Number of new trademark applications: 64 cases
Made use of the copyright system in China.
Number of new applications for copyright registration: 23 cases
Performed internal training on intellectual properties.
Emphasizing respect for intellectual properties, both our own and others

Support licensing of our own IP. 
Created a database and investigative reports regarding patents.
Upholding our strict policy against copyright infringements

Participated in ACCS's "Amazon Taisaku Project" and cooperated with requests for removal of copyright infringing products for retro games (489 total removals).
Requested removal of apps that infringed our copyright.
・225 cases for "ROMANCE OF THE THREE KINGDOMS" series (94% deletion rate)
・80 cases for "Dynasty Warriors" series (93% deletion rate)
・ 89 cases for "Uncharted Waters" series (91% deletion rate)
・ 31 cases for "Nobunaga's Ambition" series (100% deletion rate)
Monitored and requested the removal of copyright infringements on all media (604 total removals).
Improved our litigation response.
TOP