Sustainability


Environment
Protecting the environment for future generations
Our goal is to promote the conservation of energy and resources and conduct efficient, environmentally friendly business management.
Sustainability
In January 2020, the new main office of KOEI TECMO GAMES, the KT Building, was completed in Minatomirai, Yokohama. This building is designed with the active pursuit of sustainability in mind. We will use the know-how we accumulated from this KT Building to increase the sustainability of our other office buildings, bringing about energy-efficient office environments for our entire Group.
Introduction of energy-saving equipment
We have implemented LED lighting for the office and water-conservative equipment for toilets and sinks.
Energy conservation through district heating and cooling systems
The Yokohama Minatomirai district promotes energy-saving and environmentally friendly urban development by introducing a district heating and cooling system in which cold water and steam used for heating, cooling, and hot water supply are centrally produced at an energy plant and supplied to facilities in the area. Through the implementation of this district air conditioning system, energy-efficient city development has been able to proceed with a low impact on the environment. At the KT Building, we combine this system with under-floor air conditioning that pushes air upward across the entire floor to implement an even more energy-efficient and effective air conditioning.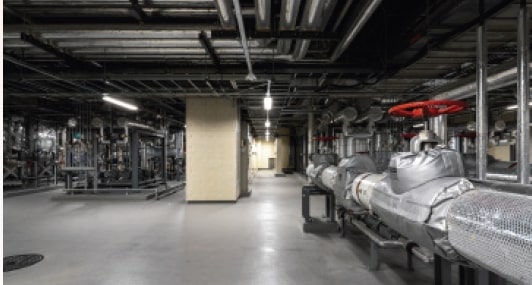 Greening Initiatives
We have added a variety of greenery to the outer walls and exterior grounds to create a vibrant and environmentally friendly city scenery. In the office, indoor gardens with live plants have been installed on each floor to create a comfortable and creative work environment.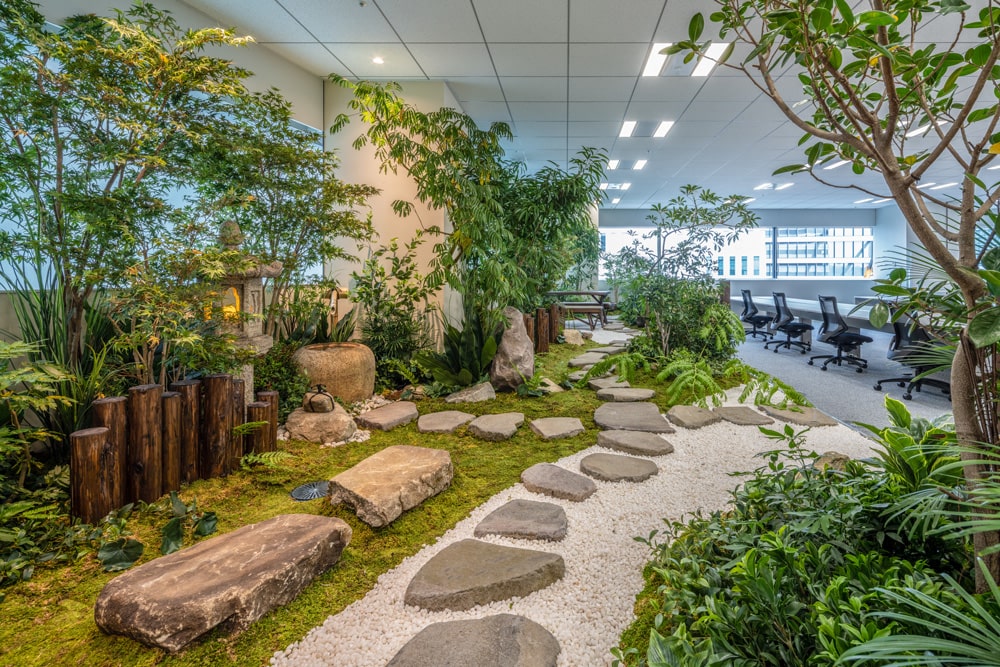 FY2022 Accomplishments
Energy-efficient office environment

Implementation of district-based air conditioning system (KT Building).

                   

Implementation of flooring materials that are compliant with the Green Purchasing Law.
Greening of company buildings

Introducing plants to office.
Monitoring of Electricity Consumption

Monitoring electricity consumption of 4 main offices (Hiyoshi main office, No. 2 Building, Gemini Building, and KT Building).
Contribution to decarburization and CO2 reduction through the introduction of high efficiency IT equipment and power saving

Integrated and virtualized outdated physical servers, moving to a cloud environment.
Paperless company meetings

Board of Directors meetings and management meetings are now paperless
Electricity conservation through promotion of server virtualization and systemization

Developed and implemented original communication tools and game development support systems that provide workflow support while maintaining a high level of security (over 150 environments).
Transitioned game development support tools from physical servers to virtual environments (over 7 environments).
Integrated and virtualized outdated physical servers, moving to a cloud environment.
Digitization of game manuals

Transition to digitization.
Further paper conservation through DX

Utilization of digital invoice system (digitization rate: 93%).
Introduction of marketable securities management system (equivalent to saving approximately 1,500 sheets of paper per year).
Utilization of digital contract system (over 1,200 contracts per year).
Implementation of paperless workflow for game monitoring operations (100%).
Expansion of donations, investments, and support activities for environment-related projects

Donated to the Yamashina Institute for Ornithology and the Keidanren Nature Conservation Fund.
Expanding Cool Biz and Warm Biz

Adopted an-all-year-round no-necktie policy.
Disclosure regarding profit opportunities and risks related to climate change in accordance with TCFD

Currently gathering the necessary information for disclosure.
TOP