The following section includes information about KT's Strengths, such as outstanding development, technical, and management skills, industry-leading profitability, a positive growth cycle, and a robust financial base.
Outstanding development, technical, and management skills.
In addition to our development and technical skills, which are the foundation of our creativity, we are able to comprehensively manage our game business and expand globally. This is the strength of KOEI TECMO.
Development

Our strength is our ability to generate new global IPs. Games with Asia-inspired world settings like Nioh have been highly successful.
Our 40+ years of game development know-how has seen the creation of hit games in numerous genres, including action, simulation, and RPGs, even receiving high evaluations from Metacritic*.
*A site that aggregates reviews for movies, games, TV shows, and music.
Technology

Using our proprietary game engine, the Katana Engine, we efficiently develop games for multiple platforms, like PS5, Nintendo Switch, PC, and smartphone. In simulation games like Nobunaga's Ambition and Romance of the Three Kingdoms, we are using AI to create strategies and tactics and also to display officer personalities.
Management

Our project management focuses on strict "deadlines, quality, and cost controls."
Commitment to meet deadlines, overachieve in product quality, and exceed expectations within budget - this is what all of our employees firmly strive for.
Multi-layered Revenue Cycle
Our company strives for stable growth by maintaining a positive growth cycle that is based on a multi-faceted profit structure.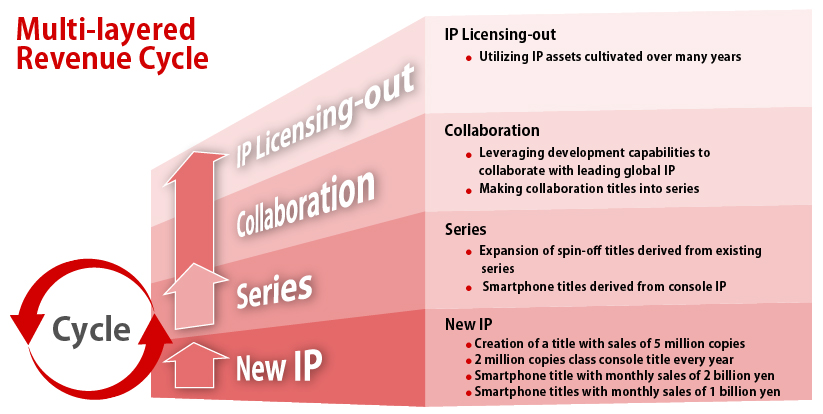 Transcendent Human Power
Our diverse workforce with outstanding abilities is our company's greatest asset, paving the way to our success.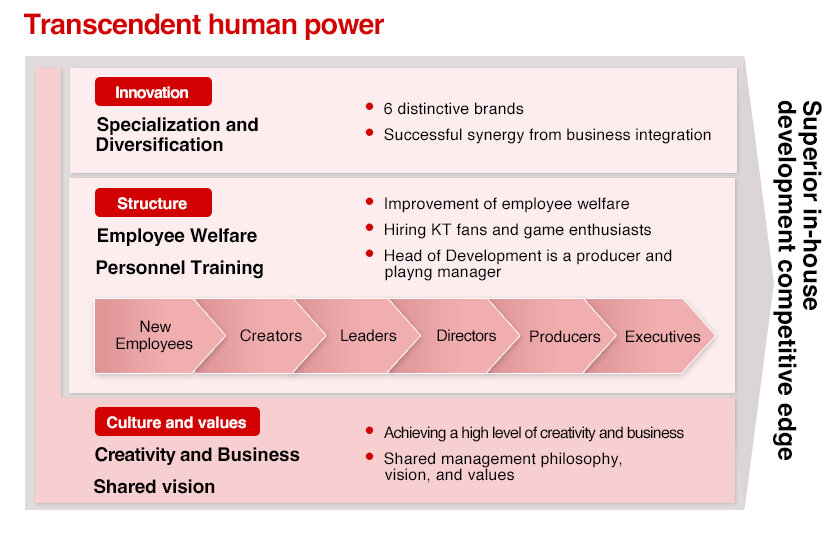 Industry-leading profitability

The recurring profit margin for the fiscal term ending March 31, 2021 was 65.1%, one of the highest in the video game industry. Our company is thoroughly committed to management that focuses on profitability.
In addition to engaging in business that has high profitability, non-operating income from financial assets also contributes to our business performance.
Note: Hover the mouse over each graph and tap to display their values.
(millions of Yen)

| | FY2018 | FY2019 | FY2020 | FY2021 | FY2022 | FY2023 |
| --- | --- | --- | --- | --- | --- | --- |
| Ordinary Income | 18,293 | 18,307 | 18,869 | 39,299 | 48,696 | 39,899 |
| Ordinary Income ratio | 47.0% | 47.0% | 44.2% | 65.1% | 66.9% | 50.9% |
Robust financial base / dividend payout ratio of 50%

With total assets of over 100 billion yen, and an equity ratio of 90%, our company's financial base is robust.
Our dividend policy is a consolidated annual total dividend payout ratio of 50%, which is the sum of dividends and share buybacks, or 50 yen per share. We regard this return of profits as one of our most important management policies, and actively implement it.
TOP